Join us as we ring in the New Year and celebrate Epiphany in a traditional French style!

There is a special tradition in France that is celebrated the 1st Sunday of each New Year. The celebration is "La Fête des Rois" (Three Kings Day) and includes a king, a queen and a special cake. Each year, pastry shops throughout France are teeming with the unique and tasty galette des rois, a flat pastry about the size of a pizza while French children eagerly await the ceremony that accompanies the galette.
There are three important elements to the French tradition of La Fête des Rois; the galette des rois, the féve (a small object that is placed in the galette des rois) and the crowning of the king and queen.
The féve is discreetly placed in the galette des rois prior to serving it. The cake is then cut so that there is a piece for everyone who is present as well as a spare piece called la part des pauvres. This extra slice is cut as a symbol for loved ones who are no longer with us and for those who are less fortunate. Nowadays, the slice is also designated for the unexpected visitor and is saved for a later treat.
Traditionally, the youngest family member would slide underneath the table and designate how the slices would be distributed. This prevents cheating since the baker of the cake does not choose how the slices are handed out. After each family member was served, the cake would be eaten and the person who discovered the féve was king for the day and selected his queen.The designated king and queen wear gold paper crowns.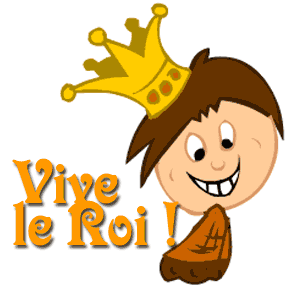 ---

La Fête des Rois!
with
Alliance Française d'Oklahoma City
Dear members,
It is a pleasure to remind you that our celebration of Twelfth Night/Epiphany will take place Sunday, January 8, 2017 from 1-4pm at the Overholser Mansion Carriage House (405 NW 15th St., OKC, 73103). A light brunch will be served with the traditional French King's Cake. Come join our tradition, meet and chat with other area Francophones and Francophiles!
Admission is free for members of the Alliance Française d'Oklahoma City and their guests!
It's a perfect opportunity to become a member or renew your membership!
---
Chers membres,
C'est un plaisir de vous rappeler que notre Fête des Rois aura lieu le dimanche 8 janvier 2017, de 13h00 à 16h00, à la remise à calèches de la Manse Overholser (405 NW 15th St., OKC, 73103). Un "brunch" léger sera servi avec des galettes des rois traditionnelles. Venez participer à la tradition, bavarder avec des francophones et des francophiles de la région et rencontrer de nouveaux amis!
Entrée gratuite pour les adhérents de l'Alliance Française d'Oklahoma City et leurs invités.
C'est l'occasion parfaite de devenir membre ou de renouveler votre adhésion!